This week we had the pleasure to be present at the 2022 edition of BIOMEET, an annual encounter of players working in the Biotech sector. This year, Biomeet was held at Parque dos Poetas in Oeiras, and had as such Oeiras Valley as a partner. P-Bio, Portugal's Biotechnology Industry Association, has been organising these events for the past few years and invited Tec Labs as a representative of Ciências' ecosystem, which, as you surely know, has multiple lines of work on these matters, be it more fundamental research or startups incubated in Tec Labs.
These two days had a lot of different talks and presentations, from decision makers to entrepreneurs and to scientists, but we must highlight first and foremost the formal signing of the Portuguese chapter of the Biotech Social Pact, with 14 distinguished signees belonging to Biotech companies around the country. These 14 CEOs compromised around three fundamental pillars: 1) grant access to innovation; 2) act responsibly towards patients; 3) contribute to a European-wide industry growing through investment.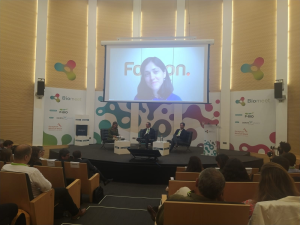 Bioinvestment in health, bioinvestment in bioeconomy, and biotech clusters were three main issues discussed in round tables and talks, and one of them had our incubee and spin-off Delox, represented by co-founder Fernando Antunes, who spoke about the experience of raising investment.
All in all, a very interesting event that showed how strong Biotech is in Portugal, and how much potential it has!