At the beginning of March, we organized an informal meeting with Tec Labs companies and projects.
Some of the companies answered to the call, however Startup Voucher projects were in more number. This was a good way to make these projects get to know each other and start making connections between them. It turned to be quite interesting!
We had in mind to make some group dynamic, in order to "break the ice", but we start talking about everything and anything and only had time to make one of them. We asked the participants to describe in one word what is like to work from home, and this was the result: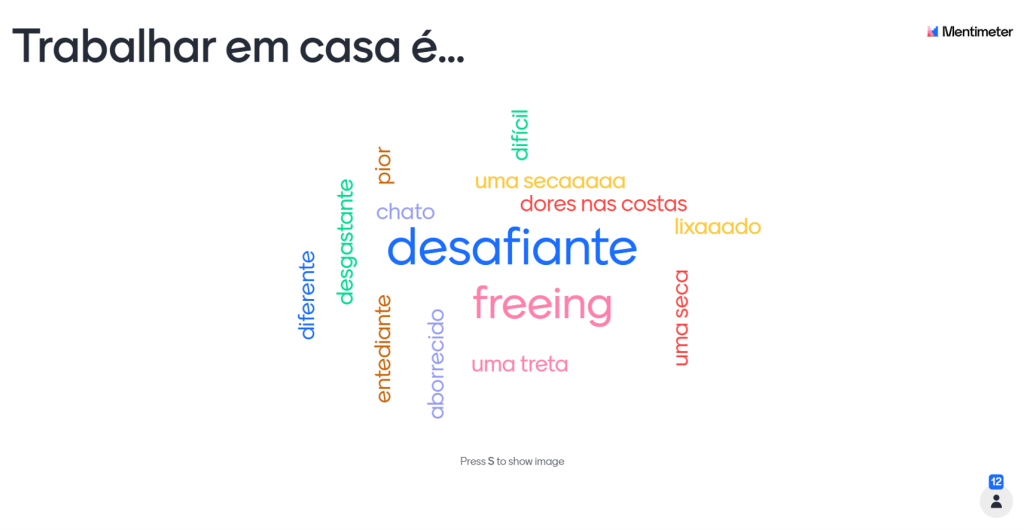 At the second part of the meeting, we had the presence of João Martins from Indico Capital Partners. João presented the Google for Startups program and had the opportunity to get to know our community.
Indico Capital Partners joined forces with Google for Startups to launch a premier accelerator to boost the Portuguese tech ecosystem.
Indico is often the first investor in startups, and almost always leads or co-leads any fundraising rounds until Series A.
Indico's focus is to support the best, high tech companies going from local to global in areas like artificial intelligence, big data, enterprise SaaS, fintech, marketplaces, among others. We look for potentially unique global winners with amazing products, solving a big problem and a clear business model. We have a geographic focus on Portugal and Spain, so we invest almost entirely in companies based in these two countries.
Indico accepts applications for the program on an ongoing basis and to apply fill out the following form to be considered for the program and refer to our FAQ for questions and details.
Each of the selected companies will be receiving an initial €100,000 investment from the new fund and will be eligible for additional funding from the flagship Indico Capital Fund.  Selected companies will embark on a pre-seed program which will last six months. The program, which includes extensive mentorship, training, founders stories, ecosystem presentations, partners talks, fundraising support, recruitment, customer and product segmentation from both Google and Indico, will be conducted both online and whenever possible, at Indico´s headquarters in Lisbon.
If you become a portfolio company by participating in our accelerator, you will be in a fine company and will meet many of our top founders, many of which could be your mentors. Indico´s portfolio has raised over 500 million USD over the last two years – the next member of the Indico family could be you!