The 24th of October was the chosen day to showcase the best that Ciências has to offer – its research and innovation!
This year's motto was 'Act today for a better tomorrow' as climate change and deep tech were the main focuses, with different researchers showcasing their investigation projects and the collaborations that enrich those projects in a multidisciplinary way.
This year, Tec Labs had its own time to shine, as we heard Rita Tomé doing an overview of the last 5 years of Tec Labs' activity and bringing to the table the challenges for the years to come.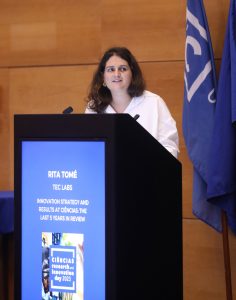 Then it was time for a roundtable with stakeholders from our ecosystem: Francisco Couto, LASIGE's researcher, João Silva, PhD student and co-founder of KeepIT, Rui Cortes, CEO of LeanHealth Portugal and Sara Reis, Portfolio Manager at FrontierIP. They all got the chance to share their experience and insights into how innovation can boost an academic ecosystem and still be a part of it.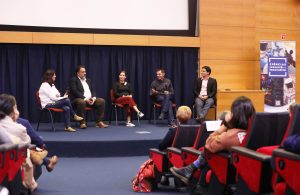 We can't wait to be back for next year's Research and Innovation Day!
Credits: Ricardo Ruella