Sensibilização para o Empreendedorismo e a Inovação em contexto escolar" (SEED), or in English, Awareness for Entrepreneurship and Innovation in a school context" is the name of the project that the Department of Employment, Entrepreneurship, and Companies of CML is developing. This project is committed to developing problem-solving skills, scenario-building, and teamwork, aimed at the needs of the community. The main focus is to establish a connection between school and the world of work, mainly in the technological and creative areas.
Tec Labs promoted an inspirational talk guided by Professor Ana Prata and André Nóvoo, the Founder of Games Omnivorous.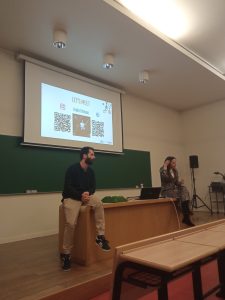 André Nóvoo and Professor Ana Prata
Tec Labs was also involved and promoted a guided tour, thus contributing to the promotion of entrepreneurial skills in young people. This time, we received a 11º class that is studying informatics, so besides the tour, the students also had the opportunity to have a closer look at the work of our incubated company Vawlt a company focused on a data storage solution for companies that value security.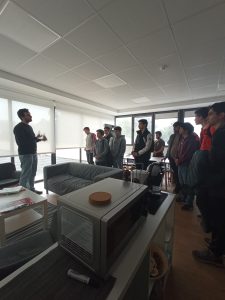 Vawlt making a presentation.
We hope that you liked the visit and we look forward to continuing with this so-needed events!