Last week we had the opportunity to meet Arminda Duarte, Sara Espiridião, and Rui Rosa in the representation of Startup Portimão.
Mafalda, the Tec Labs Project Manager, got the chance to first make an institutional presentation followed by a guided visit to Tec Labs.
The aim of this visit to Startup Portimão was to get to know more about incubators and programs focused on entrepreneurship and innovation.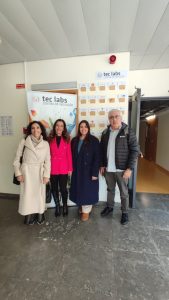 We look forward to creating synergies!