The 14th of July introduced the 3rd Chem&Biochem Students Meeting.
Throughout the day, BSc, MSc, PhD chemistry, and biochemistry students got the chance to share their working projects with their colleagues and academia.
The program consisted of plenary lectures, oral, flash, and poster communications, and a round table about " Science beyond academia: entrepreneurship".
The round table was moderated by Rita Tomé Rocha, from Tec Labs. Ricardo Perdigão Henriques, CEO of Bionova Capital, Maria Helena Garcia, founder of Ciências' spin-off R-nuucell, and Miguel Prudêncio, founder of iMM's spin-off RoPlaVac, were the invited guests.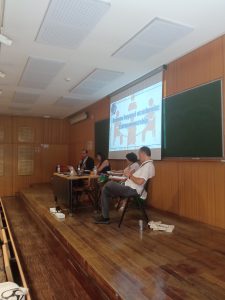 This was an excellent talk to get feedback from experts who took scientific research beyond and managed to be market-wise competitive, alongside someone who privileges and funds well-put-out research.
The 3rd Chem&Biochem Students Meeting proved to be an exceptional platform for students to connect with experts in their field, gain valuable knowledge, and establish connections that may shape their future careers.