The National Innovation Agency (ANI) recently organized 2 training events at the Creative Science Park in Aveiro, focusing on the capacitation and future of tech transfer offices.
The morning session, 'Promoting Innovation through Capacitation in Technology Transfer Offices (TTOs)', kicked off with an engaging panel discussion, featuring testimonials from individuals representing various organizations. The panelists shared their experiences regarding Capacitation Programs and how well were they designed to meet TTOs' expectations.
Next, multidisciplinary teams were created to face a Design Thinking challenge to find innovative solutions for the internationalization of  TTOs and to facilitate the expansion of startups into new markets.
In the afternoon session, 'The future of TTO's capacitation in Portugal', participants had the opportunity to learn from the experiences of renowned innovation centers at leading universities such as Porto, Aveiro, and Coimbra. The session provided a platform for sharing best practices and insights gained from managing innovation ecosystems within academic institutions. The goal was to inspire new approaches to foster innovation and entrepreneurship.
Then, a member of the European Patent Office shared insights into the organization as well as tools and training sessions for one to know.
Finally, an insightful panel discussion featuring representatives from NOVA University Lisbon, Instituto Superior Técnico (IST), and Tec Labs (FCUL). The future challenges of TTOs and market trends were discussed. One of the notable panelists was Rita Tomé Rocha, the coordinator of Tec Labs, who shared her valuable insights gained from extensive experience in the field.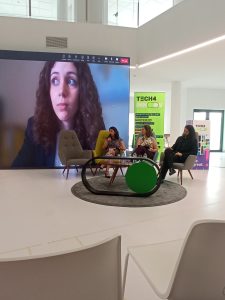 The training event, organized by ANI in collaboration with prominent institutions and industry experts, offered tech transfer officers and professionals a unique opportunity to exchange knowledge, discuss challenges, and explore innovative strategies to drive the growth of technology startups. The insights gained during the event are expected to have a significant impact on the development of the tech transfer ecosystem in Portugal.
Such events play a crucial role in equipping professionals with the necessary tools and expertise to navigate the complexities of technology transfer, fostering an environment conducive to innovation and economic growth.
What a great event!